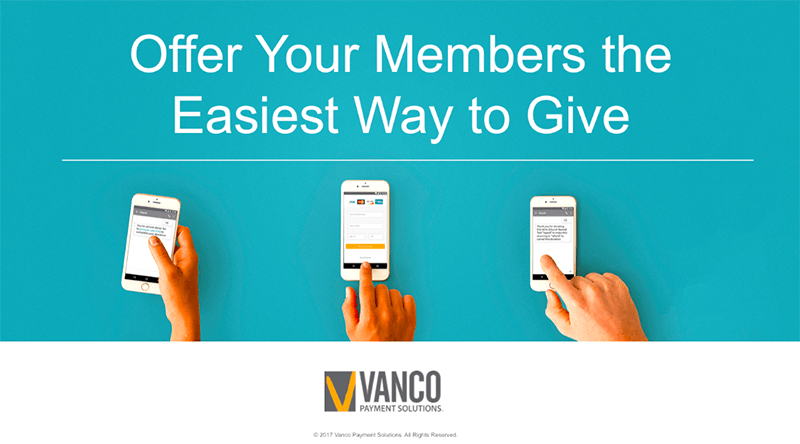 With the busy giving season right around the corner, we'll be offering a free webinar next week designed to help churches get prepared and grow their donation plates.

Offer Your Members the Easiest Way to Give will demonstrate how simple it is for your members and guests to give with a text message. The live webinar is Wednesday, September 20, at 1 p.m. Eastern Time.

Vanco e-Giving Ambassador Richard Bauer will share how churches that add Give+ Text to their financial stewardship program are finding it effortless to implement and extremely worthwhile. Giving through a text message takes just seconds, and it's proven to increase donations — our clients who've added Give+ Text have increased their total giving by as much as 28%.
With more of your congregation carrying mobile phones than checkbooks or cash, text giving appeals to everyone who wants to quickly and easily make offerings or respond to urgent financial requests. Give+ Text is a great solution that:
• Makes giving easy: Register, give, repeat
• Accepts one-time or recurring donations
• Is affordable for all churches
I want to learn more about Give+ Text
We look forward to having you join us for this important presentation so you can be prepared for the increase in attendance and donations the holiday season brings.
And, if you're not able to attend, we encourage you to go ahead and register. After the live event, everyone who has signed up will also receive a link to a recording.