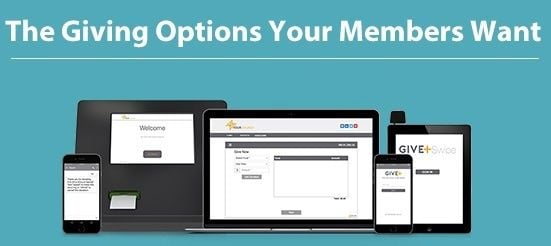 As the Thanksgiving and Christmas holidays approach, churches are busily preparing for the seasonal increase in attendance that comes from occasional members and guests returning to the fold.

Offering hospitality to these holiday visitors takes many forms – anything from having special spaces in the parking lot to stationing greeters in the lobby and including welcome messages in the bulletin and during announcements at services.
Hospitality also extends to offering everyone in the congregation as many ways as possible to give. When it's easier to give, people appreciate the flexibility and control of choosing when and where their giving happens, and they contribute more often and more generously.
Yesterday, we presented a webinar, The Giving Options Your Members Want, to show churches how they can fulfill their hospitality mission and grow holiday giving by offering electronic options.
e-Giving Ambassador Richard Bauer took attendees on a tour of our Give+ suite, including:
• Give+ Online: Accepts multiple gifts (one-time or recurring) from guests and account holders through an easy-to-use embedded form.
• Give+ Mobile: Puts the power of smartphone giving directly in the hands of members and guests and is included in our giving plans.
• Give+ Text: Offers the ability to direct donations to specific funds with a designated hashtag. One of the fastest ways to give, it's just $5/month with a giving plan.
• Give+ Swipe: Our card reader connects to your mobile device to accept payments for tickets or merchandise anywhere, anytime.
We also offer Give+ Kiosk, a self-service solution for one-time contributions with a debit or credit card, and hosted giving pages that churches can link to from their websites and social media accounts.
No e-Giving option will work for everyone in your congregation, and some may want to use different ones depending on the situation. For example, they'll make their pledge through an online page, but make other donations and payments with the mobile app, text or kiosk. Whichever method they use, they can be assured their personal information is safe since it's all stored on PCI Level 1 compliant secure servers.
The window to add these options in time for the busy giving season is closing. An important point to remember is that while e-Giving makes giving easier for your congregation, it also reduces the burden of processing donations for church administrators, who are able to spend more time on other church business and activities. As another timesaver, our Church Marketing Center has a wealth of downloadable resources for helping you launch e-Giving during your busiest time of year. And should you ever have a question, we offer the best service and support.
If you want to learn more about electronic giving and our Give+ suite, you can watch a recording of the webinar here. Or, get your questions answered immediately by speaking with one of our e-Giving experts at 800-675-7430.