"The last two years represent the highest and second-highest totals for giving—
and the third and fourth largest percentage increases in giving—
in the past 10 years, adjusted for inflation."
~Amir Pasic, Ph.D., the Eugene R. Tempel
Dean of the Indiana University Lilly Family School of Philanthropy
---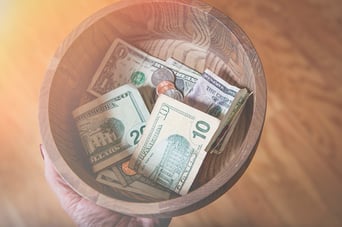 Americans are giving again. Across 2014 and 2015, total donations grew 6.1% and 4.1%, respectively, according to Giving USA's most recent report. Two-thirds of that growth came from individuals.

If we explore this notable increase in giving, we can see that Americans are feeling a sense of recovery from the Great Recession. We also see an active desire to be part of the recovery as growth in charitable donations has outperformed growth in GDP for five years running.

People are giving — but not to churches
It's good that people are renewing their charitable contributions, but churches aren't benefiting as much as others. Giving to religious organizations rose just 2.6%, slightly above the rate of 2015 inflation. Addressing how to accelerate or reignite congregational giving is as critical to bringing the church up to par with other causes as it is to the health of your organization.
For many churches, that money (and potential) lies in the hands of your lapsed and lost donors.
The first step to inspiring those donors is to identify and understand what caused them to stop giving in the first place. Which were economically driven? Which were personal to the congregant and his or her family? Which indicate a possible disconnect with your church? Some answers might be obvious; uncovering others may require more personal conversations with members.
Best practices for (re)igniting financial giving in your church
Once you've explored the reasons for reduced giving, here are seven best practices you can adopt to encourage members to renew financial commitments. These ideas also apply to how you integrate new members into your giving community.
Empower the congregation
From the moment a new member is welcomed, communicate the importance of stewardship. Ask current congregants to help convey to new members why giving is important and how the church uses donations to impact valued causes. Involving current members in the effort allows them to live out values they espouse and reminds them why they are giving.
Turn to scripture
Remind people regularly that stewardship is part of spiritual health. Share with them what God says about giving and help them understand why it's so important to the church's mission.
Embrace transparency
It's vital for every staff member to be able and willing to articulate how donations impact their areas of ministry. In addition, regular financial reporting to the congregation lets members know how and when their dollars are being used.
Nurture relationships
People give to causes and people they care about. Build relationships that nurture this central element of generosity. For example, if your church raises money for Habitat for Humanity, participate in a build for a first-hand experience with the homeowners you're helping.
Share stories
Storytelling takes many forms. Engage them all. Use graphics to clearly show how donations are used. Ask people to share how the church has shaped their orientation toward money or how giving has impacted them. Either way, help people see the higher value of money.
Personalize outreach
Whether your church is large enough to warrant email marketing solutions, or small enough to allow for in-person interactions, it's important to listen and speak to the concerns and values of each congregant.
Use e-Giving
Enabling generosity when, where and how your church members are most moved to give is important for everyone. Recurring credit card options allow members to start a sustainable giving habit, and channels such as app- or text-based giving offer a platform for them to act immediately when inspired to support a cause.
With the giving climate in our country on an upswing, now's the time to re-engage lapsed givers. What do you have to lose? A great deal, as it happens: the additional financial support your church needs to fulfill its mission and make a difference in the world.