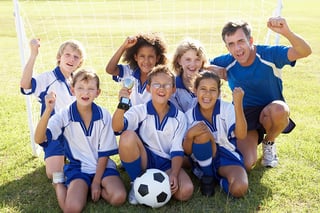 We talk a lot about how e-Giving helps members keep their commitments to contribute tithes and offerings to their churches. But electronic giving options can help churches manage another key financial necessity: payments and fundraising for all the activities that happen every day in your church community.And offering electronic options for program payments also might keep your church healthier in more ways than one.

Churches with schools, afterschool programs, classes, sports programs, congregational dinners and other similar ministries can set up their electronic giving solutions to accept payments as well as donations. This additional advantage of e-Giving solutions often is emphasized less than giving for tithes and offerings, but it can be quite valuable, particularly in a very active church.This advantage can be even more significant when you consider that our Churchgoer Giving Study showed that the highest demand for e-Giving options comes from people who participate in at least two church groups or activities – in particular, youth sports (80%), after-school activities (76%), leadership/committee roles (70%) and Sunday School (67%).
Many of the participants in those programs are younger congregants with families. They are less likely than their counterparts of an earlier generation to carry cash or write checks, as we discussed in a recent blog on the growing general preference for electronic payments. By offering more than traditional processes, churches will satisfy the needs of some of their most active and engaged members, both for regular giving and for the programs they enjoy.
Providing e-Giving for church programs also may improve the chance that those members will be a more involved and enduring part of your church family. This large demographic offers strong potential for high lifetime value to a church, provided they have a pathway to involvement. It's important for the health of the church to develop and retain active, long-term givers, since it takes, on average, eight new givers to replace one key multi-year giver, according to a recent article in Church Executive magazine.
If churches offer active members what they need, spiritually and otherwise, and give them an easy way to meet financial commitments, it's not much of a stretch to think they may stay around for the long haul. In that respect, innovations in electronic technology that make it simple to contribute financially both to missions and activities may have an even greater impact on the health of the church tomorrow than they do today.
If you would like to learn more about electronic giving and its role in church programs, download our infographic, Everyday Opportunities for e-Giving.