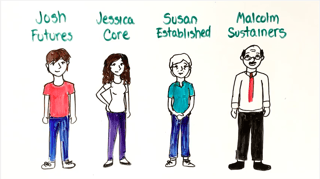 There's a lot of value in understanding the types of givers within your church.

Churches range in size from 10 to 10,000-plus members. With such a wide variety, there's no one-size-fits-all approach to getting each person to support the church financially. That's why we gathered data to find trends and insights on giving and givers.
Based on our survey of more than 1,000 churchgoers, Vanco discovered four types of givers within churches across the U.S. We call them Futures, Core, Established and Sustainers. The groups are different in age, life stage and social media and technology adoption. Understanding and meeting the needs of these giving types is a step toward financially engaging your members.
If you like, you can stop reading right here and watch our new video, Options for All: Making It Easy for Everyone to Give to Your Church, to learn more.
Still with us?
If you're more of a reader, here are the giving types we identified and how they like to give. Check out the video for recommendations on how your church can best meet their preferences.
The Futures are nontraditional and younger. They're married with kids and are invested in their careers and spiritual life, but you won't find them at services every week. One way to reach them is to make sure your website is optimized for mobile. Futures are more likely to give on their phones than any other generation.
Members in the Core giving group are working full-time inside or outside the home and are in their late 30s and 40s. They're highly involved at church and volunteer quite often. Since this group is in your church a lot, they need self-service options for giving, like a kiosk, so they can give wherever they are in your church community
Kids are out of the house and retirement is close for members of the Established giving group. These members are 55-plus and might be working full-time or part-time. They will regularly attend church, but probably won't be very involved outside the main service. They intend to give, but may need education on the church's online giving options.
Also in the 55-plus age group, Sustainers are mainly retired and have been with your church for a while. They are highly engaged and really value their church family. They are the most likely group to respond to endorsements about online giving by the pastor.
Each type of giver has different giving preferences, but they do have a few things in common. Overall, 60 percent of churchgoers prefer giving electronically. e-Giving is a strong preference across all age groups, and "two to four times as many members would give electronically through a computer, tablet, smartphone, text or kiosk if the option was made available by their churches," according to our Churchgoer Giving Study.
And there you have it – four types of givers engaged and ready to support your church – when you know how to reach them. Watch our video on Options for All: Making It Easy for Everyone to Give to Your Church to learn more!