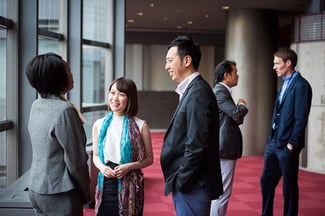 Declining attendance and its multiple implications for churches, including the impact on giving, were the topics of many conversations we had at The Church Network's Annual Conference two weeks ago.

Several of us from Vanco attended the conference and had the chance to talk with representatives of churches both large and small. Those we spoke with said that while overall membership isn't dropping, regular attendance is. And while issues often vary from church to church and denomination to denomination, this overall decrease in attendance is a shared concern among many.
At the same time, the definition of regular attendance has changed. One person said young people at his church consider themselves to be very active members if they attend twice a month. Compare this to not so long ago, when the only excuses for missing church were illness, emergency or the occasional vacation.
Nowadays, stores are open, sporting activities are scheduled and even work events happen on Sundays. People travel more and life in general is challenging and busy. With that, the expectation that people should go to church every week has changed. The churches we talked with recognize that there's no going back to the old ways, and are focusing on how to respond to the new world we live in.
For example, we saw a lot of energy and excitement over new church plants and helping them become successful, particularly in drawing non- or occasional churchgoers. Some national denominations are loosening up their rules concerning what constitutes a church so not all their usual requirements for starting a church apply. They're removing barriers to establishing churches that might attract those who aren't interested in the traditional model.
To meet people where they are, one synod in Minnesota sponsors beer and hymns on Friday and Saturday nights in various locations. They aren't tied to a physical church location as in the past. Others offer Wednesday or Saturday night services geared to those who can't attend every Sunday. Churches still want people to go to services; they're just trying to make it easier.
With competing priorities, some people aren't compelled to go to church as often, and they may not feel compelled to give as often, either. This can cause a real financial pinch for some churches.
Many conference attendees told us they know one solution to financial issues is online giving because they see it work for other churches. However, we still heard concerns about some elements of e-Giving. One attendee acknowledged how effective online giving is, but said he fears that members of the rural churches he represents, who generally are older and perhaps not as computer-savvy as younger generations, won't accept it.
This is where communication and mentoring become so important in advocating for and adopting e-Giving. It's a great opportunity for reverse mentoring, for example. Younger leaders can champion online giving and demonstrate it for others. We offered hands-on training at the conference for our giving kiosk. It was a great way for churches to see first-hand how easy it is to use.
Some churches at the conference also said they're worried that a small portion of the church budget will go toward fees e-Giving involves. While some accept it as a cost of doing business, like offering Wi-Fi or coffee, others have such constricted budgets that they don't think they can afford fees on incoming donations. We try to help them look at it another way: Can you afford not to offer e-Giving?
In a 2016 study we completed, churches of one denomination that offered electronic giving options to members saw 26 percent higher total giving than congregations not using e-Giving. In another denomination, total giving per member was more than 30 percent higher among those churches that offered e-Giving options. The opportunity cost is getting bigger every year if the church doesn't allow people to give electronically, particularly in a time when fewer individuals want to deal with cash or checks.
While it's clear that acceptance of electronic giving has come a long way, based on what we heard at The Church Network conference, those of us offering e-Giving need to continue to make our case about how to adopt it successfully. At Vanco, we want to learn first-hand about the challenges of today's churches so we're better able to help them launch and grow e-Giving in their congregations. That's why you'll regularly find us at such events throughout the country. The next time you do, stop by and talk with us. We'd love to hear what's going on in your church and how we might be able to help you.
Many thanks to Richard Bauer, an enterprise sales representative with Vanco, who also offered his thoughts on the conference for this post.