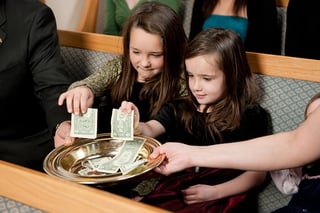 Teaching children about generosity and giving practices when they're young yields lifelong benefits. They grow up as disciples of wise stewardship. They engage with their church community early in life. And, more often than not, they end up with a sense that wealth comes from generosity — not the other way around.

To successfully build generations of givers, remember a few key things about children:
They're technology natives, so what you do and how you communicate must include digital touchpoints.
They're naturally generous in spirit, but distracted by a world of commercial prompts.
They're keen observers of their parents and how they demonstrate what they value.
By keeping those points in mind, churches can find meaningful ways to provide their congregations with opportunities to give at each stage of life. Begin simply. A child who has the chance to give of his or her resources as part of worship often ends up with a deeper personal faith. That can translate into a stronger church community that is more beneficial for everyone.
Nursery and preschool
Raising active givers can begin in the nursery, when little ones are learning to read and share. Pair their Bible lessons with specific giving opportunities. A basket near the door of the preschool worship area or classroom is a tangible reminder to share. At certain points in the year, such as during holidays, VBS or congregational mission efforts, involve the young children in a saving campaign that has a clearly communicated recipient and goal.
Elementary
As children get a bit older and have an opportunity to earn at home, they can start to build an understanding that generosity is a choice. At this age, they're getting ready to learn how to budget, or make choices about where they spend their money, and why.
It's important for parents to be involved. They can give their young children a dollar to put in the collection plate to help develop a giving habit. Children also need to see adults model faithful stewardship and understand how they make giving decisions. Melanie Gordon, director of ministry with children for the United Methodist Church's Discipleship Ministries, recommends: "If you place your offering in the plate, let them witness this. If you send your offering electronically, let them sit at the computer with you, and talk to them about why we give to the church."*
Parents also can start a give/save/spend program at home. Have the kids decorate and label envelopes or jars with the words "save," "spend" and "give" and encourage them to divide their money among them. The church can help. During Sunday school, discuss with kids why each category of spending and saving is important, and offer them ideas for ways they can contribute their "give" money.
Teens
By now, many young people have observed how their parents and other adults give. They likely have had opportunities to be generous. But they may be seeking to understand the purpose. Chris Winderlink, the director of young people's ministries for Discipleship Ministries, notes that "as a generational trend, millennials and younger give money to places where they understand how their money will make a difference."* Whether through youth group, outreach programs, mission trips or impact stories, it's important to show young people how their generosity is making a tangible difference in the lives of others.
Young adults
The effort doesn't end with adolescence. The church can help to ensure that the time invested in raising generous children translates into a stronger church community. It's important to involve young adults in conversations about how and where church money is allocated, give them opportunities to have a voice in how the church is using its money and share ministry ideas that are meaningful to them.
For the church, cultivating a community of active young givers is a part of creating an overall culture of generosity, and may be one of the most important things it does to build a healthy financial base.
* Giving Together Creates Faithful Community (Part 2) - United Methodist Church's Discipleship Ministries