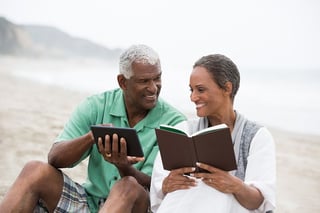 It's just past the Fourth of July, and if your church is like many, Vacation Bible School and the year-end choir concert are over. Sunday services and church staff may be on a summer schedule. And yes, your pews are noticeably emptier (along with your collection plate, perhaps).

It's not too late to help members stay connected with your church until vacations are over and school is back in session. With activity slowing down a bit in July and August, you might have more time than usual to explore new options for your congregation. Here are some ideas you can work on now to bring people back when summer winds down — and food for thought on changes that can help you beat the slump next year.
1) Stick to your schedule. Your church can make it through the summer by keeping communications to your congregation regular and uplifting. You're probably already making people aware of everything going on at the church through email newsletters, social media, your website, weekly bulletin announcements and other communication channels. But don't let summertime change your communication schedule. If your congregation is used to a weekly newsletter, make sure you stick with it, even if the content is lighter.
2) Look at optimizing your website for mobile. Three-quarters of Americans own smartphones and half use tablets, according to the Pew Research Center. To reach the maximum number of members, your website should be mobile-friendly. Is yours ready? If not, use the summer to search for information on "responsive web design," which optimizes websites for use across a variety of devices (and could encourage e-Giving among your members). In particular, Church Tech Today offers useful information on mobile-friendly websites.
3) Recap Sunday services. Make sure your congregation knows what they're missing when they're at the beach by promoting and recapping Sunday services. The volunteers in your video ministry may be scarce over the summer, so make sure your schedule is filled. If you can't post videos, put the text of your sermons online. Either way, now might be the time for new and different messages; this website has ideas for you.
4) Investigate livestreaming. Nearly nine in 10 pastors say they believe it's theologically acceptable for a church to provide faith assistance to people through the internet, according to a Barna Group study. So it's not surprising that more and more churches are livestreaming services over the web to help members stay in touch when they're away. Research "livestreaming for churches" to find companies that focus on services for faith-based organizations. Consider free streaming services such as Facebook Live if your church is on a tight budget.
5) Plan a re-entry event. Depending on the school schedule in your area, you still have a month or two to plan an event to say goodbye to summer and welcome people back through your doors. You don't have to be as creative as one Saskatchewan church, which used Pokémon Go to attract people last August (though it's an interesting idea!). A musical performance or volunteer event followed by a potluck supper could do the trick for your congregation.
6) Kick off new programs. Finally, you might want to use the new school year as a natural time to kick off new programs. As Gretchen Rubin, bestselling author of The Happiness Project, writes in her blog, "January is the official start of the new year, and I always get a burst of renewed zeal at that time, but September also gives the same feeling of an empty calendar and a clean slate. The air seems charged with possibility and renewal."
What have you been thinking about changing at your church? Adding a Sunday School class? Freshening up your worship service? Starting or enhancing an e-Giving program? It's not too late to gather your team and plan something new. Use these dog days wisely – and maybe the summer slump will become a thing of the past.
Have some downtime to consider new ideas for your church? Our Resources section offers many articles, white papers, case studies and infographics that can help you inspire greater generosity in your congregation.