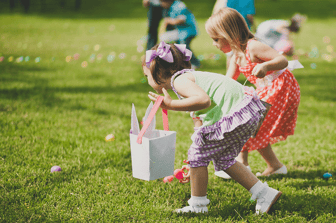 So much of the church's celebration of Easter is based on common beliefs and similar rituals. But how people observe the holiday outside those walls varies greatly.

From the foods we eat to how our children spend the day — even to what we wear — Easter is as much a reflection of culture as it is of belief. Here are some examples from around the world — some interesting, some charming and some downright singular.
Celebrating with children
• Easter is mainly a secular holiday in Sweden, and children typically dress as witches and trick-or-treat on Maundy Thursday. This reflects a belief that witches flew on their broomsticks to a mountain to cavort with the devil on the Thursday before Easter.

• Similarly, in Finland children go begging in the streets with sooty faces and scarves around their heads, carrying broomsticks, coffee pots and bunches of willow twigs.

• The legend of Smingus-Dyngus has its origin in the baptism of Polish Prince Mieszko on Easter Monday in 966. On that day, boys try to drench other people with buckets of water and squirt guns, and girls who get soaked are said to marry within the year.

• For 130 years, the White House has hosted the Easter Egg Roll on its South Lawn. The event has grown from a simple one into a full-blown celebration with musical groups, an egg hunt, sports and crafts.
Celebrating as adults
• The "Abballu de daivuli" is a sort of trick-or-treating for adults in Sicily. Locals wear scary masks and red robes, then run in the streets pestering people to pay for their drinks.

• Germans decorate Easter trees and Easter fountains with eggs and garlands, and also practice a custom called the egg dance, in which eggs are laid on the ground and people dance among them while trying not to damage them.
The foods we eat
• Swedes enjoy meals of eggs, herring and Jansson's Temptation – potato, onion and pickled sardines baked in cream.

• On Easter Monday, a giant omelet is served in the main square of the town of Haux, France. It includes more than 4,500 eggs and feeds up to 1,000 people. This meal has secular roots in Napoleon's march through France.

• In 1968, the story Billy The Aussie Easter Bilby was written (and later published) by a 9-year-old Australian girl. In 1991, the Easter bilby — and its chocolate form — became tradition, much in the way that Americans delight in a chocolate Easter bunny.

• Italians tuck gifts inside enormous, artisanal chocolate eggs — often special things like a desired toy for a child, jewelry (even engagement rings!) or keys to a new car.

• Ecuadorians make huge batches of Fanesca, a traditional Easter soup. Its ingredients include squash, cheese, milk, 12 fresh grains and beans, which represent the 12 apostles, and salted cod, which represents Jesus.
Cultural rites
• In Haiti, Holy Week is marked by colorful parades and traditional rara music played on bamboo trumpets, maracas, drums and even coffee cans, mixing Catholic and Voodoo traditions.

• The traditional dansa de la mort (death dance) occurs from midnight until 3 a.m. on Holy Thursday in Verges, Spain. People dress in skeleton costumes and parade through the streets to reenact scenes from The Passion.

• In Finland, people burn bonfires to ward off witches who fly around on brooms between Good Friday and Easter Sunday.

• Norwegians read so many crime novels during the Easter season that publishers put out special Easter thrillers known as Paaskekrimmen.

• On Holy Saturday in Corfu, Greece, people throw pots, pans and other earthenware out of their windows, smashing them on the street. The story behind this custom has varied roots, but all point to people ridding themselves of the old to inspire growth of the new.

• On Good Friday in Bermuda, adults and children celebrate the Ascension by flying kites and eating codfish cakes and hot cross buns.
There you have it – a lot of eggs, a surprising number of witches and an interesting obsession with crime novels. Will you try a new-to-you custom this Easter? Whatever you do to celebrate the season, we wish you and your family the very best of holidays.