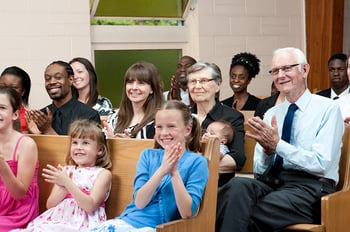 Since its earliest days, the American church has been a place where neighbors came together, growing a community through shared experiences and social opportunities. People valued being seen at church on Sunday and involved throughout the week. Children learned values in church and developed relationships that often lasted a lifetime. In every town and city, the steeples were the highest point on the horizon, and the churches were just as central to the shape of the community and its culture.

Today, active attendance in the church is declining virtually everywhere. In 2016, 73% of Americans said they identify as Christian, but only 31% of them attend church, according to Barna Group Research. Reasons for low involvement vary, but include a reluctance to align with a particular church and more emphasis on other, secular activities that take place on Sundays. For people leading busy lives, viewing a streaming worship service on the internet is simpler than trying to get to church on Sunday.
It's worth noting that many of the factors affecting church affiliation and attendance have little to do with belief systems. When people look for a new church, the Pew Research Center says they're more influenced by whether it offers a variety of programming options, such as small groups, Bible studies, youth programs and other community-building ministries.
Ways to instill a culture of belonging in your church
Regular attendance begins with a sense of invitation, connectedness and purpose. People want to feel missed if they aren't present. Of course, each person must take responsibility for helping to build relationships by showing up on Sundays and taking advantage of opportunities to connect outside worship.
For the church institution, that means creating a place where community and fellowship are possible:
1. Invite members and non-members to programs and events that might be of interest to them
2. Create space and time for people to connect and grow with one another naturally
3. Provide programming throughout the week — such as sports leagues, classes, service opportunities and social gatherings — that gives people reasons to build regular touch points with the church and its community
4. Listen and respond to what members and guests are seeking, such as relevant messages, worship style options and quality children's programming.
Community can make or break a church
Just as it is with so many other cultural touch points, community is at the heart of why people build — or break — a relationship with a church. Once you embrace that reality, you can begin to create a haven where people feel welcome when they're in attendance, missed when they aren't, connected to others and fulfilled by involvement.
Remember, though, even if you have the best Sunday messages, the most delicious doughnuts and the highest-quality children's programming in town, not every member will make your church a regular part of life. People will attend sporadically and others will leave. Find out why. Invite people to share what makes your church a place they expect to attend — like school, work or their gym. Find out what is keeping it from taking a spot on that list.
It's likely that technology you already have in place, such as email and survey software, can make those conversations broad and simple for all. To connect with guests, take a look at our sample survey, Nurturing a Sense of Belonging Among Your Visitors. For ways to use technology to communicate and build relationships, check out Church Tech 2.0: Beyond the Basics.