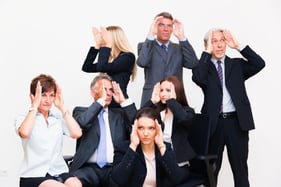 Managing a thriving church in today's digital world requires changing the status quo. In part 2 of our interview with Ben Stroup, Ben outlines why it's not just technology that has to change.

Why sometimes I am thrown out of meetings

Money is a touchy subject in faith-based organizations for so many reasons. Some feel the discussion is sacrilegious. Other church leaders feel members should respect church decisions without questioning. Some leaders feel uncomfortable burdening members with too many money talks. So when I talk to a church or group of church leaders, and say plainly that when it comes to fundraising it is not member behavior that has to change, it is church leadership that has to change, it ruffles feathers. All I can say is, please don't shoot the messenger. My advice isn't about bad news. It's about good news that can bring members closer and more connected with your vision.

Behavior #1: Pastors who stay on the sidelines

Modern leaders who are afraid to talk about tangible outcomes fail to challenge people to rise to the occasion. If I'm responsible for the flock, I am responsible for funding the flock's mission. If you truly believe in the mission, why wouldn't you do all you can to ensure the dollars flow in to support it? But to be fair, are our spiritual leaders getting the training they need to run what amounts to a small (and sometimes not so small) business? Even ministers provided with management and financial training can struggle balancing dual roles as spiritual leader and manager. It's why some churches are adding on an executive pastor who handles business affairs.

This is a really interesting time for our spiritual leaders. There tends to be a groupthink among some that "if we hold on it will change." But there is no miracle on the horizon that will let you stay in the status quo. There doesn't need to be a miracle. There just needs to be a recognition of members in their 21 century life…members who want more information on the vision, and giving tools that work with their every day living. Pastors who can help lead their organizations to this recognition will see amazing things happen.

Behavior #2: Stewards who leave their business sense at the office

Your highest ranking volunteers that form a board of vestry or stewardship committee are often doctors and lawyers or prominent business people. The mentality is often to treat the church like an art museum. It's the old pledge system – build the budget around annual gifts from a fraction of the membership. This system is unreliable, causes a summer slump in revenue, and leaves many members out of the giving process. This model of stewardship is outdated and, frankly, I am often surprised at how a stewardship committee will allow poor and ineffective business practices that they would never put up with at the office.

Church leaders and stewards need to work together to outline clear giving goals, update giving methods to the digital age, and better communicate the value members and the community get from supporting the church mission. Do electronic giving tools have a cost? Yes, but would you rather have 97 percent of every dollar or zero percent of lost dollars? When you extract the administrative costs of managing cash and checks the margin becomes even smaller. Also, the average online gift is usually higher per average than cash and check gifts. This means that, overall, electronic donations (even from luxury credit card brands such as American Express that have higher fees) produce net higher giving amounts.

Editors note: see this blog on the

80/20 rule and church stewards



Behavior #3: An attitude of "Not my church"

I

t's easy to understand why staying in the status quo feels so much safer and easier to manage. But the changes you need to make to get in synch with members may be much simpler than you imagine. There is a lot of good church management software out there that allows you to integrate electronic giving methods with little pain or learning curve. In terms of digital communications with members, there may need to be some training to bring skills up to date. Some of the most important changes to make include segmenting information in your emails and on your website, based on interests. Most seniors don't care about nurseries or youth disco night. Teenagers and young singles without children don't care about parents without partners events. In short, don't project your personal preferences onto the habits and expectations of the people in the pew.



Behavior #4: Marginalizing or excluding seniors



There is ageism going on in some churches. "My church is older" is used to explain away why there does not need to be an online presence or online donation tools. Those are for younger churches with younger people. This is "old" thinking.



Seniors get it. They get social security and Medicare payments electronically. They have to file taxes electronically. They go online for news and to buy products and pay bills. The fact that we sometimes create barriers to gifts because of assumptions that are faulty is hurting revenue. This is particularly true for seniors who are part of the giant baby boomer population bulge and growing closer to the largest transfer of generational wealth in history.

A final note:

This is not the time to marginalize your most generous of benefactors.

The truth is these affluent seniors have a lot of choices of where they want to leave their money to do the most good once they are gone. In general, nonprofits are doing a better job of communicating value than churches. Church leaders are often worrying about the wrong thing. It's not whether seniors will adopt electronic giving trends. The real issue is whether they are putting unnecessary barriers between givers and the mission, and communicating value of the mission.





These two things will be a significant part of whether seniors choose the church as a beneficiary and whether young people and families choose the church as their long-term spiritual home.



Thank you to

Ben Stroup

for his insights. Check out some of Ben's popular books, including "Awaken the Outlaw: Discover Your Process for Transformation" and "Church Giving Matters: More Money Really Does Mean More Ministry."

Help your church understand how electric giving might work for your organization. Download our ready-to-use presentation as a tool to start the conversation.